January is nearly over and I'm ready to catch my breath!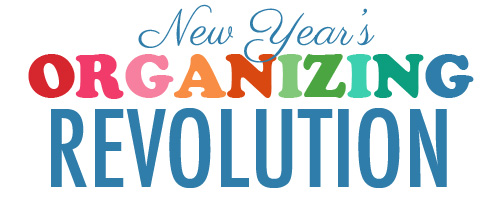 Thanks to the blogger ladies who hosted the New Year's Organizing Revolution, I've cleaned up my office area, organized some kitchen cabinets, did an overhaul on 2 closets and spruced up my living room

(remember the
sneak peak at my new stereo cabinet last week
?).
What? You haven't seen the

rest of the

living room yet?

Well, then, please take a look!
BEFORE
You can see above, the state of this room before. Piles here and there, the sock basket left on the couch, parafernalia left behind after a visit from the grandkids, over-stuffed bookshelves -- Yikes! does anyone else's living room get into such a state?
I put every to work taking (almost) everything out of the room. Wish I had the magic of television to capture the scene - you know, those shows where people swapped houses for a weekend and emptied out and re-decorated a room in each others' houses? That's what it looked like in my living room this weekend. My assistants were all a-blurr moving everything out.
(mostly) EMPTY!
Once everything but the large furniture was removed, I swapped out the bookcases. There wasn't going to be much furniture rearranging, since sweet hubbie likes his favorite green chair just where it is, and he prefers the other chair and couch where they are. He has so few requests when it comes to the house, I'm happy to comply with his wishes.
I was thinking it'll be nice to have things cleaned up and cleaned out, but everything will basically be the same. I was ok with that. What I didn't expect was how much difference moving 2 pieces would make. And how much I LOVE the emptiness.
AFTER
So, what did I put back in the room? The most important items and our most favorite things. That's

it

. I am so pleased with the results!
My absolute favorite thing in this room now? My new family gallery wall:
with 3 new grandchildren this winter and a wedding next month, this wall already needs updating!
These final days of January, the hosts of this Organizing Revolution are giving Grand Prizes to the 3 finalists who get the most votes. (Voting begins January 28 and closes January 30 at 8pm central time) You can view all 12 finalists HERE and vote for your favorite. I am finalist #9 (Apron S

trings & other things).
Thank you to everyone who

has followed along, cheered me on, left sweet comments and took time to view my progress. I appreciate each and every one of you!
also linking up to TeachMeTuesdays at GrowingHomeBlog.com