Last week I took on the challenge of organizing up my office area. This week it's on to the kitchen!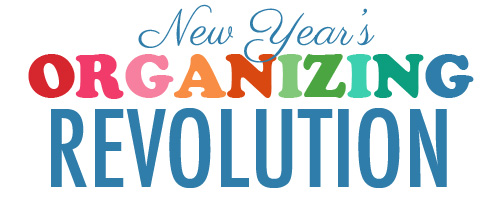 During this first month of 2013, I've taken the New Year's Organizing Revolution challenge put out the

re

by Laura at OrgJunkie.com and 6 other bloggers.
Last year I cleaned out and organized my junk drawer and a couple of other drawers in my kitchen and wonders of wonders they are STILL clean and organized! So let's build on this terrific foundation, I say!!!! (please excuse all the exclamation marks - a girl has to do whatever it takes to psych herself up for a job like this)
I have once again been following the PROCESS for cleaning out and organizing. It really is a most amazing help. I stay focused and on-task when I work through each step.
As I walk you through all that I've done, you'll see pictures of the amazing transformation of my kitchen cupboards. Soooo, grab a cup of your favorite cuppa and get comfy and enjoy the show!
I used items that were sitting around, like random organizers (this one became a plate rack). Only purchase for this project was new shelf liner
I

P

lanned out my project -- get rid of items we do not use/need, make items in cabinets more accessible, give shelves and cupboards a good cleaning, change shelf liner, etc. Do the easy jobs first, then tackle those that are driving me bonkers. The rest can wait.
My "Special Pieces" Before (left) and After (right)
Then I

R

emoved ev.er.y.thi.ng. and sorted what was to stay and purged what needed to go. I was in such a hurry I didn't take pictures of any totally blank spaces. But trust me, each cabinet was a blank slate before moving things back in. You can see in the photo above I started cleaning out before taking my 'before' shot.
Coffee Mugs (can a girl have too many? um, ye-es!) Before (left) and After (right)
Under the Baking counter (Before, top. After, bottom)
Baking Pans - I just love the red/cream checks - makes me smile everytime I open up the doors!
O
rganizing like things with like was pretty easy with this project once I finished the purging. My spices were pretty much in all the same area, breakfast foods and snack crackers were all together. Hot drinks and vitamins and baking pans each had their homes all ready. Mugs were all in same cabinet, specialty pieces were together behind glass doors.
PURGE!!! I threw out empty and expired vitamin containers, combined half-empty boxes, got rid of my absolute favorite teapot (the one with the broken-haven't-fixed-it-in-10-years handle, sniff sniff), tossed various bottles and crazy amounts of who-knows-why-I-stuffed-that-up-there items.
Next,

C

ontainerizing!!! (Love this part!) But with very little $$$ available for this project, I had to utilize containers I already had around and/or get creative. I consolidated as much as possible and assigned space for everything.
Cracker/Cereal/Snack Cabinet (Before on left, After on right)
Spice/Coffee/Tea/Etc Cabinet - top photos show Before and After as you peek in the corner door. Bottom photos show before and after The Great Spice Purge and Reorganization. I keep most spice bottles on 2 lazy suzans, alphabetized (in general) with A-L on the left one and N-Z on the right one.
Gotta love containers! Above you see coffee and tea condiments in a plastic bin, vitamins and other 'health' products in baskets. The photo on bottom shows how I corralled peanut butter and honey jars in a plastic bin--easy cleanup for those sticky messes now! See also how I re-purposed a large cardboard package as our snack bin. I (usually) keep this stocked with granola bars, snack cracker sandwiches, small raisin packs, etc.
Once that fun part if finished (oh, yeah, right. this it's ALL fun!), it's time for an

E

valuation of the plan. Since my kitchen space has already been working pretty well for me, I do not see any major problems. Except to convince police retrain the family as we build new habits putting things back into their designated containers.
This cabinet is above my double oven - I called it 'The Abyss' because it was so high, deep cavern. A plastic coated wired shelf to utilize some of the vertical space and a wire organizer (meant to be attached to a door/wall) turned on its side to keep serving trays at-the-ready leave plenty of space for bulky pitchers.
Do I have any issues to

S

olve/simplify? We'll see. Anything that doesn't seem to be working will be addressed over the next couple of weeks as we work in the kitchen and prep/clean up meals.
S
mile, relax and enjoy! That's easy when you look around at a job well done.
What!? Could it be!? Empty Space!? Loving It!
If you've made it all the way to this point, and if you've enjoyed your tour through my newly transformed kitchen cabinets, please consider popping over to the Organizing Revolution and voting for me (#10

2

- hsmominmo) beginning Friday morning (Jan 11) and ending Sunday afternoon (Jan 13).