If you checked in
here
at the beginning of the week, you read about the Organizing Revolution challenge I am taking on to get this New Year off with a bang.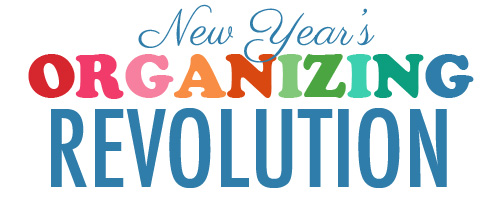 Each week in January 7 terrific bloggers are sponsoring/challenging the rest of us to get organized, each week focusing on a different area in our homes.
Week 1
finds us in our office/desk area.
Almost 2 years ago my amazing husband and talented son custom-built for me a desk unit to fit into our office corner. I love it! But I have not been utilizing it and taking care of it as I should. So, I'm taking this opportunity to get things in order, put a system in place, so life runs more smoothly around here.
While this may not be the worst shape my office area

has ever been

in, splashing pictures of its 'Before' state is definitely a hard thing to do. But it will get me motivated, so, here you go - take a look:
The obvious areas that need attention are:
Piles, and piles, and more piles of papers and books and toys and hairbobs and you name it.
Window sill clutter, and more clutter that needs to be put away or thrown away or given away.
The bulletin board is overflowing with outdated pictures and invitations to events in the past and reminders for appointments that have come and gone. Time for a whole new look here, I'm thinking.
Cords and Cables - here and there and everywhere!
Purses and totes. It is oh so easy to drop things as we I come, and then get busy and never come back to put them away properly.
And there's more! Would you like to have a look-see at what's behind th

ose doors and drawers?
In the cabinet to the left of the computer monitor, below the

aquarium

:
fish food & supplies and print

er paper

on the top shelve

s. G

reeting cards and

telephone books & directories on the bottom shelves

office supplies - including pens, stapler, paperclips, stamps, check refills, etc.

envelopes, cords, memory cards, plastic containers filled with 3 sets of state quarters (really?! good grief!)

recordable cd and dvds, and what's that? the old satellite modem

for the service we no longer use? whatever!

and under the desk, on the floor, a myriad of cords and cables and

techy-box-thingies.
Add caption
To the right of the computer monitor, under the window and printer:
large top drawer houses colored printer paper and cardstock, and assundry items that had no home anywhere else once we switched from the old desk to the new

large bottom drawer holds household files

small top drawer is where we keep various cd's for computer, and kitty socks. ALRIGHT! WHO LEFT THEIR KITTY SOCKS IN MY CD DRAWER!!!
You now know what I'll be doing today -- rolling up my sleeves and digging in to make this space functional, organized and beautiful. I'm following Laura's PROCESS - it helped me so much last year.
In t

omorrow's post I'll share my progress, and then on Thursday I'll post the Big Reveal. Friday, the voting begins! Please stop by any of the bloggers hosting this New Year's Organizing R

evolution

and check out what others have posted showing their office areas. You are sure to pick up a few pointers and plenty of inspiration. Then on Friday, stop back and vote for your favorite entry.

Each week t

he

three

with the most votes win fabulous prizes.