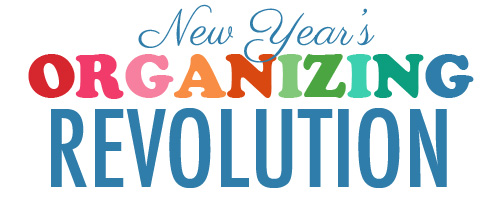 It's Week 3 of the New Year's Organzing Revolution - YaHoo!! It is feeling so good to get so many spaces cleaned out this month. Would you like to see what I've accomplished this week? Our assignment was to take on a closet. I'm sure some have glamorous and gorgeous closets and amazing storage systems. Me? I'm happy to have some closets and thrilled to get them cleaned out and in order. You may not see much of beauty here today, but you will see two labors of love.
If you like what you see, if I've encouraged or inspired you at all, please click HERE sometime this upcoming weekend and vote for my closet spaces. My entry will be labeled 'hsmominmo'.
You can see my previous posts in this series by clicking HERE.
First Up: The Coat Closet
Just look at this cluttered, inefficient, totally embarrassing excuse for a coat closet in the front entryway to my home. Shameful!
Well, now take a look at what my handy-dandy-six-year-old-helper and I did yesterday. (wish I had picture of her working hard, but she was on the other side of the camera this time around)
First, following the PROCESS, we completely emptied the space.
We purged and sorted and returned items to where they belong and found new homes for some things and added more to our Donation Station.
What did we put back into the space? Only things we use and wear.
On the upper shelf we stored the lightbox Dad and Caitlin sometimes use. and various binoculars/spotting scopes for bird watching, nature walks, hunting. On the lower shelf we put a bin for outdoor kidfun equipment (like bubbles and chalk and such). The drawstring bag and bin under the shelf hold wooden blocks for kiddos. This may not make sense in other families, but this is where we go to look for them, so when the grandkids come to visit, that's where they'll go to find them. So they stay. We slimmed down our collection of coats and now have room for guests to hang theirs - Nice!
Now, the dilemma - where do I put all the wrapping/shipping materials? Not back in this closet. I'm on the lookout for just the right spot, so I'm scouring the house with my newly shined organizer glasses. We'll find a solution, just praying it's the right one so I don't have to keep moving and readjusting.
You see before you very eyes another shameful mess. This closet is right next to the kitchen area and is the hold-all, catch-all for housekeeping and home maintenance. From time to time we clean it out and put things back in an orderly fashion, but it doesn't take long to look like the photo above.
First we

empty the space. Then we purge, sort, and containerize.
Take a look at the result. Amazing! Love it! So nice!A place for everything and everything in it's place. The brightly colored bins are from the nearby dollar store - the perfect thing to keep bottles and and such corralled. The green bin for small paper bags and a magazine holder turned on it's side is perfect for keeping old newspapers contained. If the bins start overflowing, it's time to get rid of some. On the floor a cardboard box to keep grocery totes and paper sacks from sprawling all over the place.
Now let's look at solutions we found for two problem areas.
1. brooms, mops, dusters, etc were either shoved in, falling over, or on random nails here and there. This little rack took care of all these problems. Luke installed one on each side wall in a manner of minutes. Love it!
2. measuring sticks - we use them often. Previously they were tucked, sort of, in the corner right inside the door. Amidst all the other junk falling all over the place, this was a disaster. Solution - mount a paper towel tube on the wall and slip the sticks in. LOVE it!
I believe this week's projects have been the most enjoyable and satisfying. I was dreading it, but really, it took very little time and is making a huge impact on daily life. I'm so happy! Big sigh of relief and contentment.
Don't forget to come back and vote, starting Friday morning and ending Sunday afternoon

.

See you next week with more organizing!